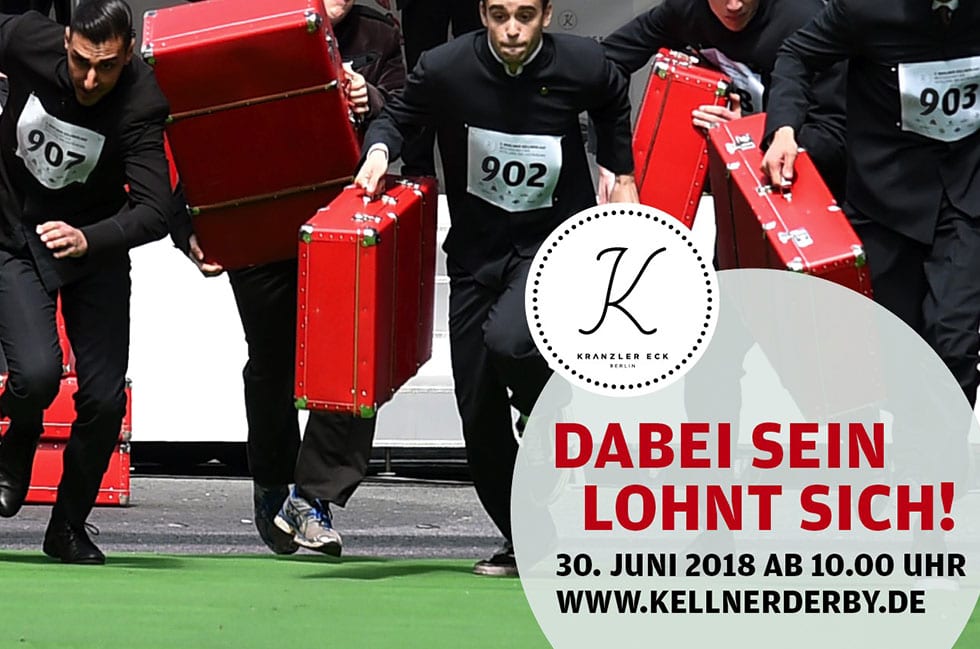 June 19, 2018 4:31 pm
It's that time again! On Saturday, 30 June 2018, Kranzler Eck Berlin invites you to the Kellnerlauf (Service Staff Race).
A packed programme!
Once again, waiting staff, barkeepers, bellhops, beer delivery drivers and kitchen staff will take part in the race. A new highlight for 2018 is the Kranzler Eck Runners' Cup, an event exclusively for all Kranzler Eck Berlin tenants. Teams of three will take part in a 3 x 400 m relay race.
09:00 am……….Start and warm-up with music
10:00 am……….Waitress race
10:20 am……….Cook race
10:40 am……….Barkeeper race
11:20 am……….Bellhop race
11:50 am……….Beer delivery driver / public entry race
12:00 pm……….New: tenants' race – Runners' Cup
12:20 pm……….Waiter race
The start and finish lines are on the Kranzler Eck Berlin premises. Popular Berlin radio host Ralf Zehr will fire the starting gun for the first race at 10:00 am. After the races have been run, Germany's best-known hotel and food critic Heinz Horrmann will present the awards to the winners. All participants and defending champions are highly motivated, good weather has been booked and all visitors can look forward to a great day! All Berliners and visitors to the city are welcome to come and support the participants on their 400-metre-long course along the Kurfürstendamm.
8th Berliner Kellnerlauf, Meisterschaft der Hotellerie und Gastronomie (Berlin Service Staff Race, Hotel and Gastronomic Industry Championship)
30 June 2018, from 10:00 am